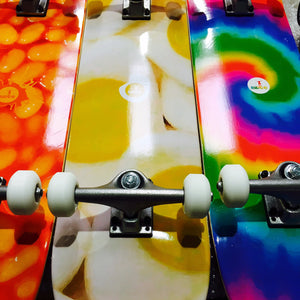 The Motif complete skateboards rock.
We are printing our new series up at the moment, which is very exciting for us.  The Ridge Motif series are 7 brand new designs available in either 22" mini cruiser complete or 32" standard skateboard complete, and we are very pleased with them.  This is the favourite in the office so far:
They ship complete with the standard Ridge trucks and wheels, and have the black blank super-raw griptape on top.
We like them.  Here is a photo of the first batch being printed up at Ridge HQ:
And here is the link to the Motifs on the site:
http://www.ridgeskateboards.com/search?q=motif
---
1 comment